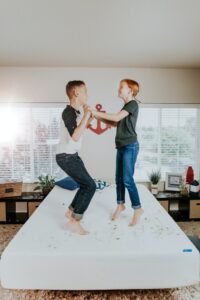 If you're looking for some tips for family mental health this fall, especially in this season with COVID restrictions, you've come to the right place!
(Miss Part 1 (tips #1-5)? Pop over and read those, too. You can read them in any order. The first 5 tips were a bit more daily specific, and this batch has a broader slant.)
For people riding out COVID in the Los Angeles area, as of today we've been 'safer at home' for 6 months. Half a year has passed with millions of families spending a lot of time together.  A LOT of time together.  So.much.time.
And while we've certainly had our moments, this has actually been a bit of a gift for our family and a chance to re-group and re-connect. Maybe it has been for your family, too. A chance to not run around like crazy people with sports and rehearsals and meetings.
[Sidenote: Darling has been working in Japan for the past 15 months. We had originally all moved out with him, but Apple booked an acting gig back here in LA, so she and I came back about 5 months in. Pixie stayed out with Darling for a bit to finish school and enjoy being an independent teenager in Tokyo. Darling arrived home at the very beginning of March and you can bet we are incredibly grateful we've been able to be in the same country for this whole thing.]
However, all of us being home all together all the time isn't easy. We have had to put some strategies in place so we can each emerge from this pandemic with our individual mental health largely intact and still liking each other.
Here is Part 2 of tips and strategies we have discovered that are keeping us (mostly) sane while we do school and work from home.  (If you missed Part 1, #1-5, here is a quick link for it.)
11 helpful ideas for family mental health during COVID (part 2, #6-11)
6) Find ways to break up the monotony of the week.
I'm convinced that monotony is what is going to take most of us out. Things are a little better now that school has started (well, from home), but the days still all kinda blend together.
DO YOU EVEN KNOW WHAT DAY IT IS
It's disheartening when every day looks the same. Early on, I noticed that my people were unreasonably excited about Taco Tuesday. Like, a little too excited. I realized it was a small thing to look forward to each week that broke up the SAMENESS. It was such a family mental health win!
So, I have become very committed to Taco Tuesday. And pancakes on Saturday mornings. This is the time to embrace small family rituals. Ask your family what little things they look forward. Or start a new one ritual. It will help.
7) Plan some fun.
Some of the loss we are all living through is the lack of anticipation about things. Who knew that so much of the fun of something was thinking about it? It's really hard to plan things right now, but also hard to not have anything to look forward to.
So make the effort and plan some fun. Pick a night each week for a family game night (we have been playing a lot of Rummikub and MarioKart around here). Or plan an event you can connect with extended family or friends for, like playing Jackbox TV over Zoom.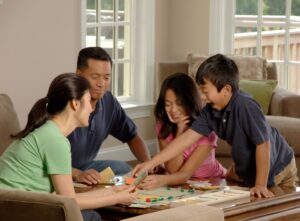 Have a group of friends or colleagues you miss? Reach out and host virtual cocktails or coffee. Create a scheduled weekly Facetime call. We have a small group of friends we get together with to catch up and just hang out each week.
We've been doing these calls since the beginning of the stay at home orders, and while we don't always have new info to share, it's nice just to see each other and we look forward it that all week.
Don't be surprised that these events are hard to plan, even though everyone is stuck at home and our social calendars are pretty much at zero. Our social energy is also pretty much at zero and it's a bit hard to human with other people.
I don't know about you, but I've kinda gotten used to not having things make demands on my time like it did in the before time. Even just planning a phone call with someone feels a bit like an intrusion on my little cocoon.
But part of this is due to the inertia we have to fight through to start any kind of social interaction again. If you've been pretty isolated, it may take a bit to get moving in a social direction again. It's okay. Start small.
8) Create joy.
Silly things are at the top of my joy list. That, and a de-junked closet. Where can you add joy in your life this week?
Grabbing some flowers next time you hit the grocery store?
Indulging in that little treat?
Wearing your favorite scent, even just at home? Allow yourself some pleasure. Daily. I just bought a new pack of crayons for myself because I love school supplies and it makes me happy to see them on my desk.
Dumb memes are giving me LIFE right now. And thank heavens for the teenagers who show them to me. It's been a fun connection point amidst kinda monotonous days of me asking what they are doing on their phones…
This is also a fine time to binge comedies. Sure, there are times you need to watch stuff to feed your brain, but some days the world seems too dark and heavy to take any more. So, I give you a list of tv comedies from the Huffington Post staff. TBH, most of our family memories of this quarantine experience are going to revolve around those early days of finding toilet paper and watching entire seasons of some fun tv shows together.
9) Think about the long haul. Six months from now, what will you wish you would have done?
Once your brain is able to swing back to productivity, it's time to go ahead and get some stuff done. I've started thinking about what my response is going to be when people ask what I did in quarantine. I mean, for the first few months it was just finding disinfectant and washing groceries.
But at some point, the number of Netflix show's we watched all the seasons of isn't all I want to bring to the table. (Though, see #8 to understand that there will be quite a few shows to mention and I'm not sorry.)
I think one of the best things to come out of coronavirus is that people have a chance to evaluate their lives. Think about what you want things to look like when life resumes. What changes will you plan to make? Things you want to add or take away from your life?
What do you want to set into motion now?
Maybe you need to learn something you haven't had time for in the past. There are about a kazillion online classes and YouTube videos to teach you (or your kids/teens) how to do pretty much anything. And, it turns out, learning something new helps build emotional strength and resiliency.
So take that tap class! Learn Italian! Figure out how to build a tiny house! That would be pretty cool to talk about when you get to be around people again.
Encourage your kids to explore interests, too. What a powerful time for them to pause and think and for us all to be intentional about our next steps.
10) LEAVE.YOUR.HOUSE.
I know various places around the country and the world have opened up more than Los Angeles, but if you haven't been out much since March, leave your house. We did a very careful few nights away from home recently and I was shocked to realize the rest of the world is still there.
It was encouraging to see that restaurants and shops were open. Perusing pretty new things gave me a lovely sense of hope. If wind chimes and scented lotion are still being sold, we're gonna be okay, kids.
Obviously, follow all the local rules and common sense and mask up, but it is likely more possible than you think to go to on a picnic in the mountains or spend a day at the beach. It is kinda amazing how hopeful it is to get a little glimpse of regular-ish life.
11) Take a social media break.
All the experts say to do this, but have you done it? I struggle to not pick up my phone all day when I'm bored or stressed. But also because I have access to it all the time without any social situations (like in-person meetings or classes) where we would normally have a bit of a break from our phones.
Try deleting social media apps for a day. (I know, it sounds kinda dramatic.) Or hide the one you go to most on the last page of your app screen so you have to intentionally go look for it.
This gives me a chance to think about if I really need to be take a hit on Instagram. Usually it's because I'm bored and it reminds me that I can use my time in a way that makes me happy, not just distracts me.  See how it feels to be away from Facebook/Instagram/TikTok for a day.
When I moved my social apps, I noticed how many times I reached for my phone during the day without even thinking about it. Even just leaving my phone in another room while we watch a movie or eat dinner turns out to be surprisingly restful.
Look, I know it's possible this list isn't helpful if you are really struggling and feel overwhelmed. Just start somewhere. Pick one thing that would help your family this week. What would help YOU this week?
Or just start your day without checking the news on your phone first thing. Instead, do a simple morning ritual like waking up and doing some small thing you love. Try reading or journaling while you sip a perfect cup of coffee. Miss Chickadee loves to draw and it makes her happy to wake up and do that in the morning before the demands of the day (i.e. me) start wanting things from her. It's helpful to have something to look forward to to get out of bed.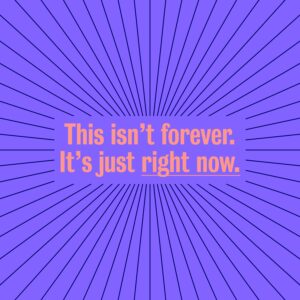 This too shall pass. This isn't the worst time in human history and it won't be the last time things throw us all for a loop. I know it is very hard to sit in uncertainty. But we are smart and resourceful people. You know what your family needs–steer the ship in the right direction.
This is the time to figure out how to live with the crazy instead of just waiting for it all to go away. As with all things, this particularly disruptive crazy is not forever. But it is for right now.
So think about the intentional, small things your family can do to get through this pandemic with your mental health intact. Can you imagine if you came out stronger on the other side?
I can. And I'm cheering you on! Use this time to build into yourself and your family—this pause can be the best thing that ever happened to your family.