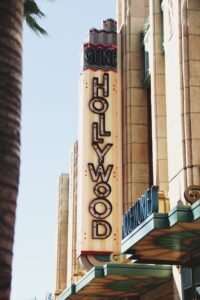 Wondering how to start a child in acting?
This is our journey to Hollywood. I'm pulling from the archives of a personal family blog I used to write on, dated as far back as November 2006, when we first visited Los Angeles to meet an agent and manager who were interested in Sunshine (7 years-old at the time). These stories are more of a personal journal than a how-to, but I have put in a few resources you might find helpful if you are considering your own Hollywood journey, especially if your family does not live in the Los Angeles area.
Wonder how we got to this point? Check out the beginning part of our story here.
[Here is the cast of characters: Me, Darling (my husband and partner in this craziness), Sunshine (eldest daughter, age 7 in 2006), Pixie (middle daughter, age 4), & Chickadee (youngest daughter, age 3 months)].
(Note: we drove from Denver, CO to Palm Springs, CA where my sister lives and we stayed with her for a lot of our trips out to California.)
Hollywood – Day 1
We knew the traffic was going to be bad, so we planned to allow double our estimated travel time to get to LA. All the promises of sunny southern California weather blew away with the 40 mph winds. Brr. Would've been fine if we had just kept our regular Colorado clothes with us, but, no, I unpacked the summer stuff to take which has us shivering our way through CA. Hopefully, it will warm up.
Our first appt was with the manager that Sunshine had spent the day with in Denver at Su's Hollywood Showcase. Luckily, he (aka Manager) had already expressed interest in signing Sunshine on, or the fact that we showed up 20 minutes late would've really been a problem. Grr.
I thought the appt was at 4, and about 10:15 that morning, I decided to actually look at our schedule. The appt was at 2. Eeek. We had managed to spread out quite a bit at my sister's and no one was showered or dressed. What followed was a solid hour of getting everyone clean and presentable, as well as trying to corral all of our stuff-o-la since we certainly didn't have time to pack the overnight bag, as we had originally planned. Oh, and then little Miss Chickadee needed to nurse as we headed out the door. It's a good thing, though, as it took us 3 hours to get to where our appointment was, around Hollywood, about 100 miles away.
In Colorado miles, that would be 1.5 hours almost to the minute.
I drove and Darling navigated. We were very brave and did a good job together (except he kept telling me things in a calm, soft voice and those extra seconds it took my brain to process the information as requiring prompt action cost us an exit or two).
You know you are going slow by LA standards when you get passed going 80 mph, even by police. A couple of times we got slightly detoured when exits sprang up on us and I couldn't get across traffic, but it was no match for Darling's map skills and we only lost a few minutes.
We leapt out of the car at the Manager's office and then waited another 15 minutes in the waiting room. We finally go back to see Manager and I was truly a little bummed at his lack of enthusiasm at seeing us. He was very brusque and business-like. Didn't he realize the effort that arriving at his door had required? Four states, four days, three children, Darling off work, etc, etc, etc. It was as if we had just walked across the street to see him.
In the Manager's office
So, he starts by telling us that the new headshots we have of Sunshine aren't as good as he would like to see. Then, he recommended I re-structure her resume. Let me just tell you that in preparation for being out here, we had about 18 copies of the (new) headshots printed. There is a particular way you have to attach the resume to the headshots that requires you to shrink the resume down to an 8×10 sized document. Ya know how every computer project takes forever and requires you to do about 10 steps you hadn't planned on having to do….ugh.
Then he asked if Pixie is going to be with us when we come out again, as he would like to sign her on as well.
Hmm. Well, I certainly think that's reasonable, and she is awfully cute, so we will just have to see how she does out here with the big dogs. My projection is that it will be fun for her (and a director) for about 3 minutes, but he seemed willing to take on that risk.
As we were busy writing a check for the new headshots (a legitimate expense, just annoying as these are now the 3rd ones for her in 6 months), he hands Sunshine a side (short portion of a script) that he wants to go through with her. We had had her go through her prepared monologues, but didn't make a big deal about her being ready to walk in and perform when she got there.
In retrospect, we probably should've.
After less than a minute, she hands the 2 pages back to him and says she's ready. She isn't expected to have memorized it by now, just get an idea of how to act the scene and read the lines.
He's surprised—does she want to look at it some more?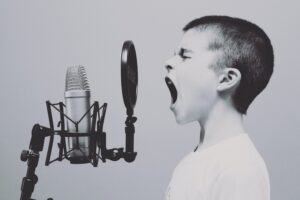 No, she tells him.
So, she truly just reads the lines with him.
It was, honestly, not great.
I start feeling ill, thinking that we have agreed to bring her out here and she isn't ready. Pixie is crawling under things and Darling has had to excuse himself to go clean up Chickadee's poop explosion that spread onto his shirt.
Please cue the Beverly Hillbillies theme song.
I wonder if in my fear of pushing Sunshine too much, we didn't push enough. Her acting coaches and even fellow actors say that she has a true love of acting and a desire to do more, but I just see the kid who I have to bug to get ready for auditions, etc. I have to realize that Sunshine does not understand what a big deal it is to come out here. She does not get that everyone who wants to go to Hollywood doesn't get to go.
She does not comprehend the opportunity she has.
I want her to have some idea, so she takes it seriously, but I want her to feel okay telling us that this isn't what she wants.
Ugh–I feel irritated at her for not doing her best. But I recognize she is feeling anxious and probably a little scared, too.
Where did my confident, sparkling, talented kid go? Now would be a good time for her to come out…
Manager looked at his schedule of classes to see what he had coming up this week that would be appropriate for Sunshine to attend. He has a class that casting directors come to and watch to scout new talent, but he doesn't think she is ready for that yet. The acting coach who runs the class agrees after spending about 5 minutes with Sunshine. I am feeling really ill now.
Sunshine had done one of her monologues for him that she really nailed while working with her Denver acting coach two weeks ago. But I could hear her doing it for him and she didn't do a very good job. I wanted to put my head between my knees and breathe, but bouncing the now cranky Chickadee made that difficult.
I looked at Darling; he looked at me.
What the heck had we done, dragging our children out here?
Not only had we taken our little fish out of a safe pond, but we landed where Sunshine is a paramecium in the gigantic ocean.
We are so overwhelmed at how BIG the business is out here. We (the parents) want to go home.
This is too hard.
The Manager has a new parent meeting that starts at 7 tonight and goes for 3 hours. He says we can bring the girls, but realizing just how much fun that would be, we send Darling and I stay at the hotel with the kids.
Luckily, we find our hotel in Hollywood with only one extra trip onto the freeway. Despite Chickadee's best effort at having the biggest meltdown of her life, I got the kids bathed and into bed. Don't you love it when your baby is shrieking in hotel rooms?
I am waiting for Darling to get back. I am already overwhelmed at what he has learned.
Maybe I should start packing…
Hollywood Day 2 – coming soon! Sign up for the newsletter so you'll get updated when the blog is updated!
****
As I look back on this story now, I can 100% see what a transition this was for our family. Show business is BUSINESS. A manager's job is to find actors who understand the business aspect as much as they are talented. Hollywood was NOT waiting for my kids so show up. There are a zillion actors out there. Actors are a commodity. Even child actors. Be the actor (or the family) who understands it as a business. Also, here is an article from a Hollywood Talent Manager who talks about what they look for in an actor.