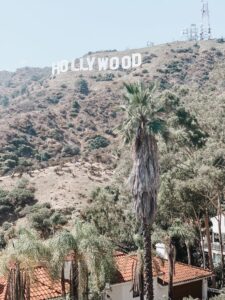 This is from the very beginning of our journey to Hollywood. It's part how-to and part cautionary tale : how to start a child in acting, our story with our kids. They all started acting as children, and we had no idea
what we were doing when we began! What follows is some things we wish we had not done as well as what we would recommend to you to do if you have a child who wants to start in acting.
How do you help a child be an actor in Hollywood? Our story begins like most of these stories do:
"I want to be on tv."
"Uh huh, that sounds fun!"
Our oldest daughter was 3 years-old and watching Barney when she said this. I was a tired mom in grad school, with a newborn and a husband who traveled out-of-state for weeks at a time. So, I did what any reasonable parent would do, and aside from the response above, I mostly ignored her about it.
A year later, I realized she was still saying it. And had been saying it every day.
Every.single.day
For a year.
It occurred to me that she might be serious.
Well, okay, now what?
We lived in New Mexico at the time, which was years away from having much of an entertainment industry. We didn't know anyone who was associated with tv, film or even local theater.
I had no idea what to do.
What to do and how to start a child in acting
When a kid says they want to be an actor at a young age, how do you know how seriously to take them? An important first step is to figure out what your kid actually means. So, definitely ask that question.
And then, find out what steps a beginner takes down the path your kid is interested in.
I mean, right? That's what good parents do. But we didn't know what the first step to take for a kid who wants to be an actor. No clue. If she had said she wanted to be a scientist or engineer, I would've known what path to set her on. But professional acting? No idea.
So…we did it wrong.
Before you judge our steps with our (then) 4 year-old too harshly, just remember that WE DIDN'T KNOW ANYTHING.
Please learn from our pain.
How to start a child in acting : our journey and a cautionary tale
I asked a few friends and family members what to do. Outside of them all agreeing she *should* do it, no one knew what to do next. There were a few suggestions to get an agent in the city where we lived, but no one knew how to do that. So, I basically didn't do anything. Until I heard an ad on the radio that said, 'Does your child have what it takes to be a star?' I DUNNO, DUDE! THAT'S WHAT I WANT TO KNOW.
I worried about it being legit, but at least they SAID they knew what to do next. (Which was to come down to the convention center for an audition).
This was scam #1.
I use the word 'scam' a bit lightly. Darling Hubby and I consider this first step an important part of or education about the entertainment business. We didn't know what we didn't know (about our child as an actor OR the business of acting).
Pro Tip 1: to see if a business is a scam, Google the business name and the word 'scam'. It's not the end-all, be-all, but it's a good place to start.
We excitedly showed up at the convention center with a few hundred other parents and kids. They did a presentation of, 'look, our company found this kid and he's famous and we can help your kid get famous, too'. The Eldest was selected to move on to the next step after an interview and audition. The next day, we paid $500 for The Eldest go out to LA to compete in The Great American Model and Talent Search.
(Please remember that you promised not to be judge-y.)
We had feelings that the whole thing wasn't on the up-and-up. And were kinda angst ridden at shelling out $ to people we didn't know for a business we didn't know, but we didn't know…ya know?
Pro Tip 2: Aside from money for headshots and classes, no one should charge you money to get started. Managers and talent agents DO NOT charge for their services. There are workshops and classes that certainly are legitimate. But if there is a promise of employment or anything aside from networking and developing skills, run away.
Part of why we said 'yes' to this for The Eldest is that the weekend of the competition, we were already planning to be in Southern California. My sister lives there and we visit her fairly often. As a result, we didn't incur additional expenses aside fro
m the convention fees, so at least there was that.
Darling Hubby took The Eldest to the day-long session. Our 4 year-old walked a runway, interviewed with casting directors and performed a little commercial script on a stage in front of a few hundred people. DH called me afterwards and was happy at how well she did–she just marched out there and did her thing. But he was also a bit stunned, and confused as what to do next. (I think maybe we were both wondering if she had any legit talent and that this would be the end of the road if she didn't, but here we were…)
DH said she was clearly talented, even against older kids. That she definitely stood out. This was an important thing for us to discover since we didn't have a point of comparison. She won awards in different categories and had interest from LA and NYC talent agents. When we called to follow-up, they wanted us to go to LA or NYC. We were not in a season of life where we could move to one of those places, so we didn't pursue any of those leads.
You don't have to move to LA or NYC (at least not at first)

We didn't know that families don't actually move to LA or NYC with their child actor (especially at first). Often, a parent will take the actor kid to one of those major markets for weeks or months at a time from their hometowns. This gives them a chance to start getting known in that major market, take classes, etc. It's a way to test the waters a bit. But there was no way that was a financial option for us at that time, even if we knew that was a thing.
We moved to Denver shortly after I graduated and DH got a new job.  About a year later, we found ourselves at a John Robert Powers session I had heard about on the radio.
(Clearly, I have not given radio ads near enough credit for their impact on our journey, haha.)
This was (sorta) scam #2.
In fairness to JRP, it was another really good education that did (eventually) lead us down the right path. They didn't promise us fame and fortune, though it was implied. JRP has a long history of launching some legitimate careers and they are a model and acting school, so there was that.
The Eldest was 5 now and we took her to classes for 3-4 months, and met with visiting agents from NYC and Chicago a few times. We had NO plan to take her to these major markets and were pretty frustrated with that being the only next step we were told to do. She did get to do a fun professional photo shoot at the end of the classes. These were her first headshots! And we learned a lot.
On the last day of classes, I took the acting teacher aside and asked how to get The Eldest into local commercials, not NYC commercials.
How did the kid on the local mattress commercial get that job? Thank God for the teacher's next move. She kinda looked around and covertly wrote a name and number on a business card. She slid it over to me and said to call him.
This is what changed our trajectory, part #1.
The number was for a local talent agency in Denver, Big Fish Talent. We called and he politely told us he wasn't looking for any kids at the moment, but to send a photo of The Eldest. So I emailed one over to him and immediately got a call back. He needed redheads.
It turns out, redheads are a niche.
This was a lucky break. And we were off.
There wasn't much happening for film or tv in Denver at the time, but it did have some commercial and model work and a good film school, as it turns out. The Eldest filmed her first commercial in Denver a few weeks later (no audition, they literally needed a redhead in her age range).
Over the next few years, she auditioned locally for student films and commercials, mostly. She did book a national commercial that filmed in the mountains around Denver and that was a taste of being a small fish in a bigger pond. It gave us some hope she was talented enough to continue down this path and we were probably doing the right thing to keep pursing it. Commercials are mostly about look, but several people on the production crew came up to me and said she was really good, directable and smart. It was great to have their perspective.
What we did right
At this point in our journey, our steps had largely moved forward because of parental persistence. We wanted to figure out the right thing to do to help our child in an industry we knew nothing about. We had some luck eventually getting to the right people, and their were opportunities that her specific 'look' brought her.
(A friend who read this told me that we were told to take her to LA or NYC several times at this point, and it's funny that I never realized it, haha! Since we were not in a position to move there or travel back and forth, it seemed completely impossible to accomplish. So, our journey is really about the right thing at the right time, too.)
After the national commercial, I asked her agent if there were professional acting classes for kids or something to help her grow as an actor. Our daughter was frustrated in local classes because the other kids didn't take it seriously.
This would be a complaint the other two girls would have as they took classes various places in the years to come. And we have heard the same thing repeated by other parents of kid actors we know. I bet this happens for kids who are serious about a particular sport or other skill, too, where they really want to learn and most of the kids aren't as passionate about it. I feel like this is a possible 'a-ha' moment for parents to pay attention to.
Pro tip 3: classes should really be a first step in the process if our child wants to be an actor. Because The Eldest was so young when we started, there weren't a lot of children's theater or classes available. But she had done whatever school and church plays she could at this point.
By now, The Middlest (at age 4) was doing a little auditioning locally, too. She was adorable and also, a redhead.
Peter, the Denver agent, connected us to a fantastic woman in Denver who had more intense training available. She said she didn't take kids as young as The Eldest (who had just turned 7), but she would meet with us.
This is what changed our trajectory, part #2.
Years later, Su Coffey told me that she is very picky with the kids and families she works with. She wanted to meet The Eldest to see if she had 'it' and be able to look into her eyes and see that she wanted to do this. And that it wasn't coming from us.
I had no idea how significant her willingness to work with us would be for the rest of our trajectory. I am beyond grateful for her.
When you hear child actor's stories about how they ended up in Los Angeles from some other parts of the country, it nearly always involves a connection with an agent or casting director or someone in their town who knows an agent or manager in LA. Very often, the kids will be in a local talent showcase and that person will connect them to Hollywood.
Pro tip 4: Your chances of being discovered in Hollywood without an introduction from someone is extremely small. You and your child need to be ready to be here–to have some experience in front of a camera (even from a class), some financial stability and a plan.
This was step #3 of the trajectory that led us to Hollywood
And that is how we connected to legit people in Hollywood. Su runs a showcase once or twice a year that she invites a select group of her acting students to. The Eldest did classes with about 15 other kids to prep for the showcase. A Hollywood agent and manager that Su knew came to Denver and worked with and auditioned the kids. There was also several hours with parents to ask questions. (Here is a link to Hollywood Showcase Denver if you are in that area. It's also a good place to use as a comparison to see if a program sounds legitimate.)
(Side note: The Littlest was only a few weeks old and The Middlest was too little to participate.)
The agent (from The Savage Agency) and manager (from The ESI Network) sent notes about each kid to Su. A few days later, Su called to tell us that they were interested in meeting The Eldest in LA. That she was confident, had a great energy and a commercial look.
Pro tip 5: I don't know if there is ever a clear sign that you are on the right path with your child as an actor. But there will likely be 'lucky' events and things that happen to reinforce your decision. Doors that open and people you meet that keep moving you forward. It was a series of steps for us, not one clear event. Something we learned from legitimate industry professionals is that being a professional actor is a marathon, not a sprint. It's years of work and opportunities and some luck to be able to have a career as an actor.
This is what you do if your child wants to be an actor and they have an LA agent and manager interested in them.
It took us 4 years to get to this point, but we now had a connection and a plan. Finally, going to LA made sense. We look back at the decision we made in 2006 and sometimes joke that we don't know if we would so the same thing. But honestly, we would have. And knowing what we know now, we probably would go sooner.
For us, our reasons for not taking our daughter out to LA were mostly based on fear. Well, that and finances and other life factors. While it's smart to be cautious, ultimately we decided to trust Su. This was four years after The Eldest stared at the kids on Barney with rapt attention and said that's what she wanted to do.
And so we took her out to LA to meet the Hollywood people. While we bounced The Littlest in a baby carrier, The Savage Agency and The ESI Network signed a contract with the two older girls, ages 7 and 4. We made plans to come back out in the spring for 8 weeks (for pilot season) so the girls could start auditioning, we arranged to get some headshots and then headed back to the suburbs of Denver.
It's now almost 14 years later and all 3 girls are professional actors in Hollywood. My hope is that these tips help you as you start your own journey to Hollywood!
(Want to know more of our journey? Follow along as I post selected stories from the personal family blog. Next up: Hollywood, Day 1